Over 75 recommendations on LinkedIn
Cliquez sur les boutons LinkedIn ci-dessous pour lire les 79 recommandations postés en anglais sur le site pour professionnels LinkedIn (sur LinkedIn les recommandations sont certifiées par le profil professionnel des personnes qui les ont laissées)
... life echoes in eternity."
Avec le site professionnel LinkedIn, pas de recommandations bidon.
Vous pourrez lire sur mon profil LinkedIn 75+ recommandations.
Je suis honoré que, souvent bien des années après notre dernier cours, des dizaines d'anciens clients aient trouvé le temps de m'écrire une recommandation souvent longue et personnelle.
Nos conversations me manquent. Ces personnes me manquent. Régulièrement, je pense à l'une ou l'autre et je voudrais leur demander comment elles vont, comment va leur vie, comment va... leur joli français ! Fait-il partie de leur vie ? Le parlent-elles encore régulièrement ? Lisent-elles des romans, des essais en français ? Regardent-elles des films français en V.O. ? Ont-elles transmis le français à leurs enfants ? Etc.
Le temps passe mais je garde de toutes ces personnes un souvenir ébloui et j'ai conscience de la grande chance que j'ai de faire ce métier car il m'a permis en leur donnant cours de les connaître un peu. Je me souviens encore aujourd'hui des années et des années plus tard de nombreux moments, de nombreuses histoires, d'idées, de visions, de rêves qu'elles ont partagés avec moi.
Gratitude absolue.
With the professional site LinkedIn, there are no phony recommendations.
You will be a able to read 75+ recommendations on my LinkedIn profile.
I'm honored that, often many years after our last class, dozens of former clients have found the time to write me an often lengthy and personal recommendation.
I miss our conversations. I miss those people. Regularly, I think of one or other of them and want to ask how they are, how their lives are going, how their... pretty French is going! Is it part of their lives? Do they still speak it regularly? Do they read novels or essays in French? Do they watch French films in V.O.? Have they passed on French to their children?
Time goes by, but I still have dazzling memories of all these people, and I'm aware of how lucky I am to be in this profession, because by teaching them I've been able to get to know them a little. Even today, years and years later, I still remember the many moments, stories, ideas, visions and dreams they shared with me.
Absolute gratitude.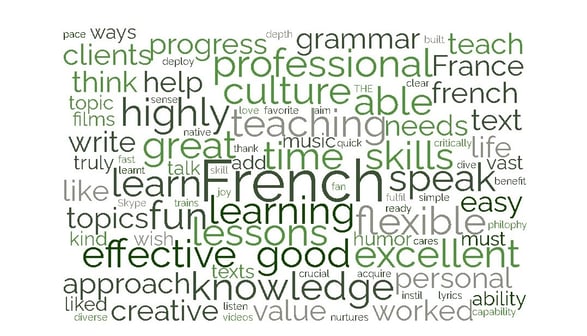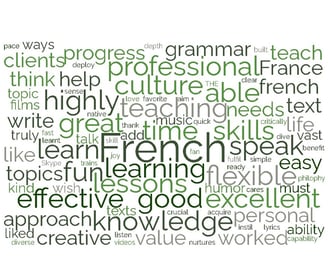 Mur de mots réalisé à partir des 75+ recommandations de mon profil LinkedIN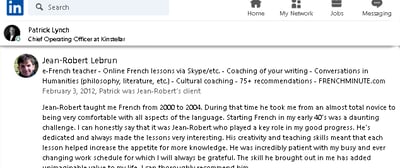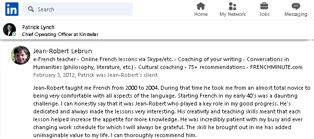 "Jean-Robert taught me French from 2000 to 2004. During that time he took me from an almost total novice to being very comfortable with all aspects of the language. Starting French in my early 40's was a daunting challenge. I can honestly say that it was Jean-Robert who played a key role in my good progress. He's dedicated and always made the lessons very interesting. His creativity and teaching skills meant that each lesson helped increase the appetite for more knowledge. He was incredibly patient with my busy and ever changing work schedule for which I will always be grateful. The skill he brought out in me has added unimaginable value to my life. I can thoroughly recommend him." February 3, 2012
Top qualities: Personable, Expert, On Time
1st Patrick Lynch hired Jean-Robert as a French Language Tuition in 2000, and hired Jean-Robert more than once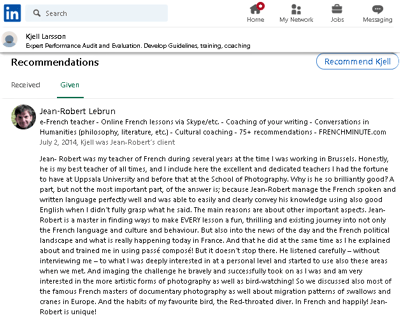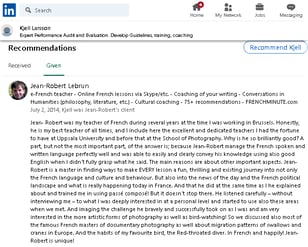 "Jean-Robert was my teacher of French during several years at the time I was working in Brussels. Honestly, he is my best teacher of all times, and I include here the excellent and dedicated teachers I had the fortune to have at Uppsala University and before that at the School of Photography. Why is he so brilliantly good? A part, but not the most important part, of the answer is; because Jean-Robert manage the French spoken and written language perfectly well and was able to easily and clearly convey his knowledge using also good English when I didn't fully grasp what he said. The main reasons are about other important aspects. Jean-Robert is a master in finding ways to make EVERY lesson a fun, thrilling and existing journey into not only the French language and culture and behaviour. But also into the news of the day and the French political landscape and what is really happening today in France. And that he did at the same time as I he explained about and trained me in using passé composé! But it doesn't stop there. He listened carefully – without interviewing me – to what I was deeply interested in at a personal level and started to use also these areas when we met. And imaging the challenge he bravely and successfully took on as I was and am very interested in the more artistic forms of photography as well as bird-watching! So we discussed also most of the famous French masters of documentary photography as well about migration patterns of swallows and cranes in Europe. And the habits of my favourite bird, the Red-throated diver. In French and happily! Jean-Robert is unique!" July 2, 2014
Top qualities: Personable, Expert, Creative
Kjell Larsson (client) hired Jean-Robert as a French teacher in 2002 and hired Jean-Robert more than once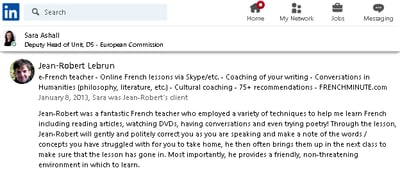 If you don't have a LinkedIn account, here are some examples of recommendations :
"Jean-Robert was a fantastic French teacher who employed a variety of techniques to help me learn French including reading articles, watching DVDs, having conversations and even trying poetry! Through the lesson, Jean-Robert will gently and politely correct you as you are speaking and make a note of the words / concepts you have struggled with for you to take home, he then often brings them up in the next class to make sure that the lesson has gone in. Most importantly, he provides a friendly, non-threatening environment in which to learn." January 8, 2013
Top qualities: Personable, On Time, Creative
1st Sara Ashall (client) hired Jean-Robert as a French Language Teacher in 2010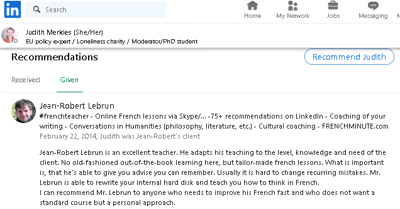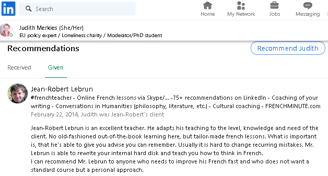 "Jean-Robert Lebrun is an excellent teacher. He adapts his teaching to the level, knowledge and need of the client. No old-fashioned out-of-the-book learning here, but tailor-made french lessons. What is important is, that he's able to give you advise you can remember. Usually it is hard to change recurring mistakes. Mr. Lebrun is able to rewrite your internal hard disk and teach you how to think in French. I can recommend Mr. Lebrun to anyone who needs to improve his French fast and who does not want a standard course but a personal approach." February 22, 2014
Top qualities: Great Results, Personable, Creative
Judith Merkies (client) hired Jean-Robert as a French teacher in 2005, and hired Jean-Robert more than once

"Jean-Robert taught me French for the year leading up to my exams. He is a devoted teacher, always providing enriching and engaging lessons. I am very grateful for how he catered to my need for flexibility due to a constantly changing extracurricular timetable. What sets Jean-Robert apart from other language teachers is his curiosity to learn about his students and their interests. Consequently, all of my lessons with Jean-Robert were tailored specifically to me, and we often discussed topical issues that he knew I would be excited to talk about. Achieving my aim of an A* is a testament to Jean-Robert's dedication to helping his students fulfill their ambitions. I therefore strongly recommend him." January 16, 2014
Top qualities: Great Results, Personable, Creative
Jacob Ezomo (client )hired Jean-Robert as a Teaching in 2010
"Jean-Robert was my private teacher of French when he was still based in Brussels. He is passionate about teaching and about the French language. He quickly understands the expectations of his clients and the level at which they need to communicate in French. I liked the texts he used as didactic material because they were always food for thought and for intense discussion. This man will drag you into a debate and meanwhile correct your mistakes almost in a playful way. You don't notice you're learning French but you are. Jean-Robert is also very flexible as a teacher when it comes to schedules. If you want to improve your French but you are afraid to ask anyone, ask Jean-Robert!" November 17, 2014
Nina Verhaeghe Journalist at VRT. Nina was Jean-Robert's client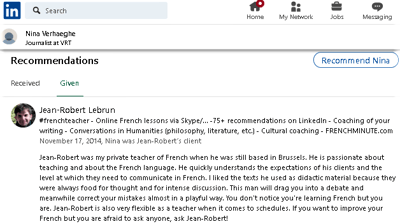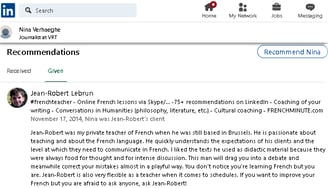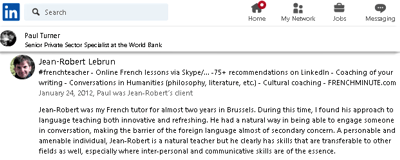 "Jean-Robert was my French tutor for almost two years in Brussels. During this time, I found his approach to language teaching both innovative and refreshing. He had a natural way in being able to engage someone in conversation, making the barrier of the foreign language almost of secondary concern. A personable and amenable individual, Jean-Robert is a natural teacher but he clearly has skills that are transferable to other fields as well, especially where inter-personal and communicative skills are of the essence." January 24, 2012
Top qualities: Great Results, Personable, Creative
1st Paul Turner (client) hired Jean-Robert as a Teacher in 2010
"Jean-Robert is an excellent teacher, versatile and innovative, he has a wealth of knowledge as well as a genuine interest in the progression of his students. Whether you are a beginner or an accomplished linguist looking to polish up around the edges, Jean-Robert will provide you with a tailor-made training programme that will produce lasting and effective results. I received tuition for 2 years and would recommend Jean-Robert to anyone looking to progress with their French." March 15, 2012
Top qualities: Personable, Good Value, Creative
1st Hope Ezomo (client) hired Jean-Robert as a French teacher/Personal trainer in 2009